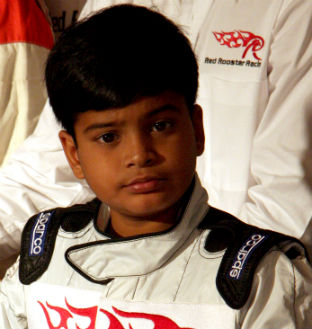 Bangalore's 15-year-old racer, Arjun Maini won the Formula BMW Asia Series championship in Malaysia on Sunday. After a win on Saturday and a third position in the first race on Sunday morning, Arjun was leading the championship. He beat last year's JK Tyre Asia Series winner Aston Hare of South Africa.
"It was a great feeling to be declared champion of a series in my first year of racing a Formula BMW. I came second in India in the championship and all the experience that I gained in the JK Racing Series came to full use this past week. I feel a lot more comfortable now and am really looking forward to racing next year," said Maini.
The last race of the series witnessed Zou Si Rui of Thailand start on pole position, followed by Aston Hare in second and Maini in third position.
Maini got off to a good start and was very close to Hare, when owing to an accident between Zou Si Rui's and Hare's cars, Maini was forced off the track, and fell behind to the last place. Hare recovered from the accident and was back on the track, and Zou Si Rui was shown a drive through penalty for causing the accident.
Maini, being down to the tenth place, tried hard to scale up the order and finished the race in the fifth position. This ensured that Maini sealed the championship with just one point ahead of Hare, who came second.
Reproduced from DNA
Picture source: http://www.redroosterracing.com