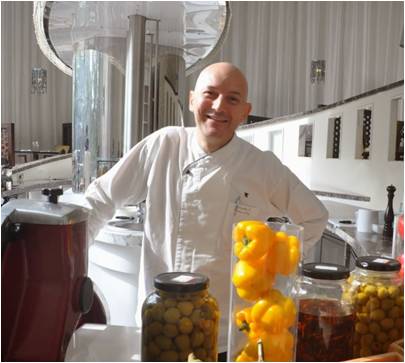 Alba, the Italian restaurant at JW Marriott is celebrating Sardinian cuisine at this food festival.
"This is the food I grew up with, this is in my DNA," Chef Antonello Cancedda calls this home food. Sardinia is miles away from our home food but well worth the trip. Idyllic and rustic, this island is all about fresh produce of vegetables and specialty cheeses.
The menu was a great showcasing of the produce. The antipasti includes a special bread Carasau, also called music bread because it is used as paper for musical notations: it is so thin.
Some of our favourite dishes were authentic Pecorino Cheese and Crisp Salads and Sa Burrida (marinated turbot fish with walnut, white wine). The next course was no less innovative with dishes like Panada which is a lamb and potato pie and Millesfoglie di Carasau con Spuma di Asparagi (thousand layers of music bread with asparagus mousse, fava beans and potato chips).
The desserts were charming too. We loved the Bianchetto, an Almond Meringue and the Formaggelle – Pardulas a saffron and orange little pie. The best part of the evening was Chef strumming his guitar and singing old Hindi songs, which he has learnt by heart. This Sardinian is loving our Bangalore.
Alba, JW Marriott, 24/1, Vittal Mallya Road, Lavelle Road, Bangalore