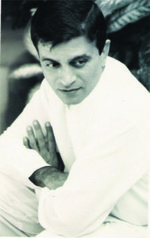 Shri Shrikantadatta Narasimharaja Wadiyar was truly a man of many parts. We simply referred to him as 'Highness' and to his staff he was a benevolent master who demanded the very best of everyone. He set impeccably high standards in everything he did and at every meeting with him one learnt something about everything! His knowledge was vast, and his interests all encompassing.
Cricketer, sportsman, administrator, raconteur, musician, designer, poet, Maharaja. He played all roles to perfection. His curiosity was childlike, and his sense of humour was outstanding.
He would invite me to tea at the Bangalore Palace, in his study where I would find him seated on the ground, surrounded by stacks of books - ranging from Indian Iconography to the Crown Jewels of the Czars, from biographies to fiction. He always sought information - from the dozen newspapers he read to the channels he watched. He had strong opinions on everything - from politics to fashion, from governance to sport, he avidly engaged with life.
We will miss him terribly. His larger than life personality and his promotion of Mysore's emblematic silk which first brought us together a decade ago, in his revival projects for heritage textiles. He was a way of life, a cultural focus for our State with his royal patronage of the arts.
Rest in Peace, Highness, you left us too soon.