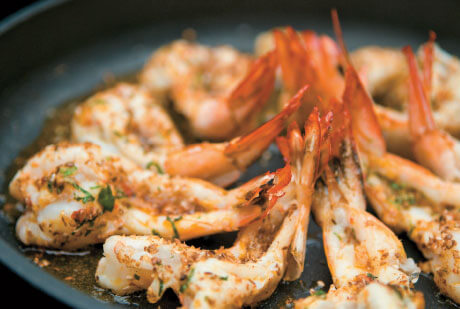 We're going to list our favs right away - The Chicken Souvlaki, The Bang Bang Prawns and the Matted Red Snapper. The food focuses on European fare with hints of Asian flavours. "As always the quest is to remain true to the different seasons with the core ingredients," Chef told Explocity.
Technique has always been an important part of the menu at this restaurant. They have brought in new techniques such as in the smoked Chicken Souvlaki, they have infused the smoking  with different flavours to add a new dimension to a regular dish.
Some of the new small plates are Crostini Three Ways(caramelised onion feta, creamed corn and kabocha squash) and the Bacon Wrapped Chili Poppers(Brine Cured snow chili stuffed with mozzarella and mint, wrapped with bacon).
The mains have Cordon Bleu (Hacked vegetables with a heart of cheese and red pepper marmalade and shallow fried), the Blackened Chicken (Cajun Blackened chicken, spicy penne pasta and a mushroom sauce) and the aforementioned Matted Red Snapper(Red snapper fish platted, ratatouille and xacuti). There is a blackboard pasta menus that change daily. There is just too much to choose from. We have to admit we overate just a little bit.
I&Monkey, 968, 12th Main, HAL, Indiranagar, 2nd Stage, Bangalore