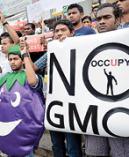 Activists against genetically modified (GM) food will be taking on an aggressive campaign to create more awareness among the public. Rajesh Krishnan, convenor, Coalition for a GM free India, says activist groups will hold more workshops and public meetings on the issue of GM and Bt crops, and the regulation that needs to be in place to safeguard public health and the environment.
"We will also extensively engage with college students and working professionals to spread awareness. Our view is that safeguarding biodiversity, human health and farm livelihoods is of utmost importance," said Krishnan.
The GM and Bt issue has been under a wave of controversy, latest being the five-member technical expert committee appointed by the Supreme Court that recommended a moratorium on field trials for GM crops a few months ago. This moratorium came in the aftermath of protests by environmentalists on the negative effects of GM crops.
Activists say there is scientific evidence to show that GM and Bt can have ill-effects on the environment, human and animal health. Neha Saigal, campaigner from Greenpeace India, said there are over 400 scientifically reviewed papers that substantiate the 'disadvantages of GM'. "We have been fighting to ensure there is a strong regulatory mechanism in place," said Saigal and Krishnan.
The anti-GM coalition also recently wrote to Veerappa Moily, the new Union minister for environment and forests, to take a prudent and precautionary approach on this issue.
 Reproduced from DNA