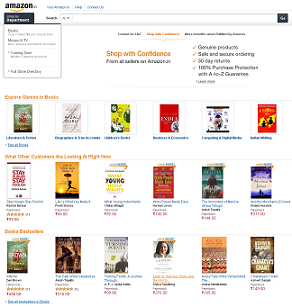 Amazon Seller Services Private Limited, an Amazon.com company, has announced the launch of Amazon's marketplace in India, www.amazon.in, and two new seller programs – 'Selling on Amazon' and 'Fulfillment by Amazon', providing customers a convenient and trustworthy online shopping experience and Indian retailers of all sizes a robust and scalable platform to sell their products online with no listing fees and a pay-as-you-go fulfillment services.
"Our vision, at Amazon, is to be Earth's most customer centric company; to build a place where people can come to find and discover virtually anything they want to buy online. With Amazon.in, we endeavor to build that same destination in India by giving customers more of what they want – vast selection, low prices, fast and reliable delivery, and a trusted and convenient experience," said Greg Greeley, Vice President of International Expansion at Amazon.com. "We're excited to get started in India and we will relentlessly focus on raising the bar for customer experience in India."
Starting with Books, Movies & TV shows video products, Amazon.in will introduce additional categories including Mobile Phones and Cameras in the coming weeks.