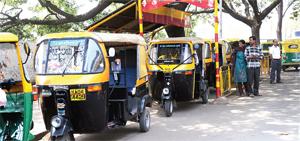 Auto unions will soon have their much-awaited demand of the rise in minimum fare met. The sub-committee of the Regional Transport Authority (RTA) in charge, met on December 5 and recommended an increase in the fares. The committee recommended an increase in minimum fare from the current Rs 20 (for 1.8 km) to Rs 25 (2 km) and subsequent per kilometre fare hike of Rs 11 to Rs 12.
The fare will come into effect once the deputy commissioner of Bangalore Urban district (chairperson of regional transport authority) grants his approval. That could be given within a week when the RTA is likely to meet.
The decision to recommend a revision in fares was taken after considering various factors. Auto unions in the city had demanded that the RTA increase fares to be on par with that charged in Tamil Nadu. The fare in Chennai is Rs 25 for the first 2km and Rs 12 for every subsequent kilometre. The unions had trotted out the usual reasons for the increase: rise in fuel prices (LPG price has increased from Rs 50 to Rs 54 per kg), cost of buying a new auto has increased from Rs 1.37 lakh to Rs 1.47 lakh and increase in maintenance cost and daily wages.
An official of the sub-committee said, "Auto fares were last revised in March last year. The recommendations are likely to be approved by the deputy commissioner in the next meeting."
Reproduced from Bangalore Mirror