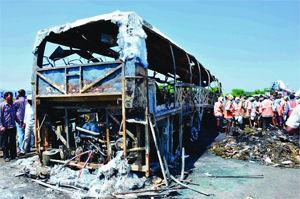 A bus operated by Jabbar Travels on its way to Hyderabad from Bangalore caught fire after the bus crashed into a divider and the petrol tank exploded.
The bus, a Volvo multi axle only had a tourist permit and was not meant to ply on dedicated routes.
Representatives of the bus operator Jabbar Travels denied presence of any combustible items on board and said that only a detailed investigation can reveal reasons for the accident and resultant tragedy.
Reproduced from Bangalore Mirror