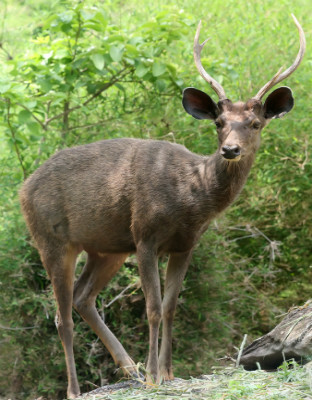 Last Sunday, poachers shot a sambar — a large deer native to India. at the Bannerghatta National Park.
Prior to this event, poachers had never targeted anythihng this big at BNP.
The poachers were aware of the fact that not many watchers (forest department's ground staff) and guards enter the forest on Sundays for patrolling. According to sources, the sambar shot dead was a female aged about five years.
A range forest officer attached with BNP mentioned, "About 7 pm on Sunday, two watchers deployed at the check-post close to Ragihalli limits heard a gunshot. They immediately rushed towards the direction of the gunshot. On seeing the poachers from a distance, they shouted at them. The poachers immediately fled. Our watchers chased them but could not catch them as it was too dark." The poachers had started skinning the deer for meat.
The watchers claimed that they spotted a team of poachers but senior officials clarified that the Sunday shooting was the job of a lone poacher.
BNP deputy conservator of forest T V Karikalan told sources, "Poaching of sambar (deer) was unheard of in Bannerghatta forests. Our officials chased the culprits and tried their best to catch them, but they could not because of difficult terrain and darkness. The poacher shot at the sambar with a country- made muzzle-loading gun. We have recovered two primers from the sambar's body. The animal's meat has been sealed and presented before the magistrate as evidence. We have also recovered a machete used to skin the sambar."
Investigators managed to collect vital clues from a bank passbook the poacher had reportedly dropped at the scene. An investigating officer said, "Details on the passbook were wiped out by rain water. But our enquiries with local banks have helped us zero in on a resident of Bannerghatta. However, the suspect is absconding. "
The incident is being jointly investigated by Bannerghatta police and forest officials. A case has been registered under Wildlife Act, as sambar is a protected species under the Act.
Source: Bangalore Mirror