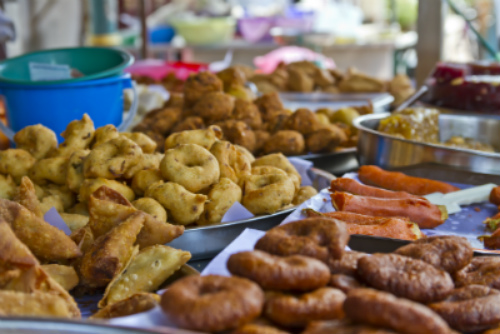 Bangalore witnesses many food festivals, and the street food at Mosque Road, during the month of Ramadan, does not disappoint. With range and an aura of celebration, one cannot miss out to try the spectrum of tastes and textures that the street food at Mosque Road has to offer.
As people gather to break their fast together at home, iftar has become a reason for Bangaloreans to throng the streets of Frazer Town. During the month of Ramadan, Mosque Road, in Frazer Town, becomes a favourite spot for all foodies. Walking down the road after sundown, aromas of uncountable ingredients and spices fill the air as restaurants and families open their stalls and serve up a series of different cuisines to passers-by. From kebab stalls to haleem stalls, people can park their cars and pack a meal, or simply walk about and try different dishes. For those who prefer a quiet setting to enjoy iftar dishes, diners can choose from many options.
This year, a number of popular restaurants open their doors to observe iftar during the month of Ramadan. While Pista House is offering the famous Hyderabad biryani and haleem, beef and chicken, Empire Restaurant has included a number of mutton dishes in their menu. Other restaurants like Imperial and Alibaba Café are serving a wide range of chicken and mutton kebabs and biryani. Alibaba Café goes a step further by serving shorbas or nutritious soups, sambusaks, the Middle-East versions of the samosa, gemat or sweet dumplings, hummus with pita bread and hareera, a meaty shorba.
These are just a few. One can set out to explore Mosque Road and Frazer Town, during this Ramadan, and discover food the soul.