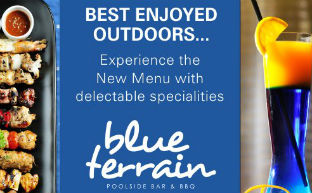 Blue Terrain, the Poolside Bar and Barbeque Restaurant at Novotel Bengaluru is set amidst serene greenery. The restaurant has introduced new additions to the inventive and popular menu that is meant to surprise the patrons with delectable specialties.
The new menu will offer an exotic mix of salads, kebabs, and several special platters. Kebabs include macchi Amritsari, mahi tikka, nashiley jheenga, lamb sheek kebab, tandoori beef tenderloin. There is an array of other dishes to choose from such as German pork sausages, Jack Daniel glazed beef brochettes, peri peri shrimps and the popular fried chicken.
The desserts promise to be innovative and indulging. Their bar offers a range of cocktails and other drinks.
Blue Terrain has a live kitchen offering grills and barbequed items with a bar serving refreshing signature cocktails and selection of wines and spirits.