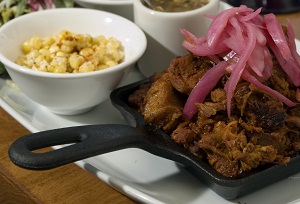 It's summertime and as George Gershwin's aria went, "the livin' is easy". One of the staple activities of most Bangaloreans during the season is to experience the Summer Sunday Brunch at ITC Windsor Bengaluru. It's back and it's better. Called the The New Burrah Sahib Sunday Brunch, the brunch just got a cool new makeover with the advent of the summer season. Based on the colours of the season, choose from a series of delights from each of the specialty restaurants - Dublin, The Raj Pavilion, Royal Afghan or Dakshin.
Dishes include an array of summary nibbles and soothing cocktails and mocktails which are light and delicious. Beverages include slushes, flavoured Mojitos and Sangrias. Chef Uchit Vohra's has revamped the menu to include plenty of short grazing eats along with options for both - vegetarians and non-vegetarians. Chef Vohra will also be serving his signature brunch dishes - Balsamic mushroom in butter crust and slow roast pork leg served with hoisin glaze and stewed apples.
Apart from good food and drink to suit your palate, there are fun activities as well like face painting, colouring, balloon crafting, bead arts and more.
Price: Rs 1,950 + taxes (no alcohol), Rs 2,350 + taxes (with sparkling wine and spirits) and Rs 2,750 + tax( with champagne and spirits).