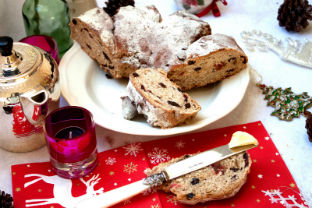 Café of Joy, the European café and bakery in Whitefield, will offer a selection of Christmas favorites on its weekly rotating hot lunch menu such as Danish fish soup, mince pies, glazed honey roasted ham, traditional pies and some festive coffees such as gingerbread latte.
In addition, the Café brings you a selection of Christmas delicacies on order. Call or drop in from Nov 25thto place your orders for stollen, a typical German Christmas cake packed with dried fruits, nuts and marzipan; lebkuchen, a German style soft Gingerbread and panettone, a citrus infused Italian sweet bread in different sizes priced from Rs 500 to Rs 2500. Orders can be placed from Nov 25th till Dec 10, 2013 for collection up to December 24th.
The Café will remain shut from Dec 25, 2013 till January 2, 2014.