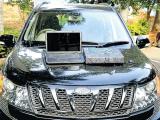 The device, 'Real-Time Monitoring of Vehicles (RMV)', aims to address the endless traffic woes arising mainly from violation of road rules by motorists. It tracks vehicles through the Global Positioning System (GPS) and introduces video streaming inside them.
The device was developed by Anudeep S Mallesh, Sandeep Raveesh and Shivkumar V Biradar, who have just completed BE at the PES Institute of Technology. Their professors S V Satish and Nagaraj L J guided them in their endeavour.
The developers believe the device can effectively check overspeeding and ensure safety of passengers in office cabs and school vans. They have applied for a patent and will soon urge the BMTC and the KSRTC to make use of the service for better regulation of traffic. According to Anudeep, the former Additional Commissioner of Police (Traffic), M A Salim, suggested them to approach the transport authorities.
Once installed in the vehicle, the device will keep track of overspeeding and monitor whether the driver is wearing seat belt.
The device will also display the speed limit of a particular road. If the driver exceeds this limit, a message will be sent immediately to the authorities concerned.
"Traffic interceptors are not always helpful as people slow down when they spot them at a distance and speed away once out of their sight," he added. Besides monitoring the speed, the device ensures passengers' safety in office cabs and school vans, the student added.
Source: Deccan Herald
Picture Source: Deccan Herald