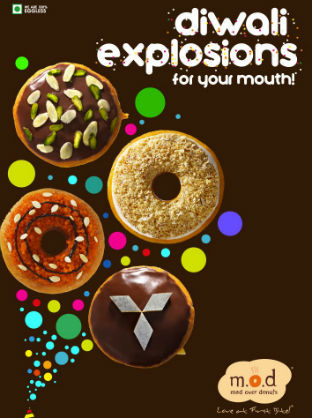 This festive season, the donuts at Mad Over Donuts have been given a twist. MOD has launched a range of Diwali donut flavours, called Diwali Explosions. The donuts are infused with traditional sweets like mohanthal, boondi, kaju katli and coconut.
The range includes Boondi Bomb which is topped with boondi, melon seeds and a dark chocolate drizzle, Ka-boom which contains kaju-katli custard as well as a kaju katli topping, Coconut Blast, a donut dipped in white chocolate and sprinkled with grated coconut and finally Nuts Over Mohanthal which is a donut filled with mohanthal custard and topped with almond and pistachio flakes.
Donuts are priced at Rs 55 each.