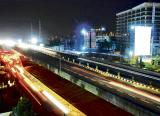 On New Year's Day, the National Highways Authority of India (NHAI) opened the first section of the six-lane elevated expressway along Bellary Road and leading to the airport from Hebbal fly over to Kogilu Cross, after Yelahanka. The section spans a length of 3.7 km.
NHAI chief general manager A K Mathur said that the two other sections of the expressway will be ready and thrown open to the public in 15 days.
The expressway's two other sections span about 600-odd metres and are located beyond Kogilu Cross and at Vidyanagar.
The NHAI has said that on the completion of the expressway, the travel from Hebbal flyover to the airport will be a 20-minute affair.
Mathur also said the asphalting of the expanded leg of the Hebbal flyover is yet to be completed. The expansion of the flyover is part of the NHAI plan to upgrade the road to the airport.
Looks like, the promise of a 20-minute ride between the Kempegowda International Airport and the Hebbal flyover is on the verge of becoming a reality.
 Reproduced from TOI
Picture source: Deccan Herald