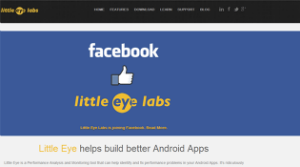 Facebook's first Indian acquisition is a Bangalore based start up called Little Eye Labs. The company is into building performance analysis and monitoring tools for mobile app developers.
Earlier, Little Eye Labs had pitched itself for a buyout to Twitter, but was offered a better deal by Facebook.
Industry insiders say Facebook paid the company about $10-15 million for the deal.
When contacted, Kumar Rangarajan of Little Eye Labs declined to comment on the development. However, in a blog, Rangarajan wrote: "Today, we're very excited to announce that Facebook is acquiring our company. With this acquisition, Little Eye Labs will join forces with Facebook to take its mobile development to the next level! This is Facebook's first acquisition of an Indian company, and we are happy to become part of such an incredible team."
While a Facebook spokesperson termed the deal exciting. "I'm excited to announce that we're acquiring Little Eye Labs, a company that produces world-class technology to help developers build more efficient products with Android. This is an opportunity to welcome some of the industry's most talented engineers to our team in Menlo Park, California," said a spokesperson from Facebook.
Founded in May 2012 by four Bangalore-based techies, Kumar Rangarajan, Satyam Kandula, Lakshman Kakkirala, Giridhar Murthy, who worked with Apple, IBM, HP and Yahoo; Little Eye Labs builds tools for mobile apps developers.
Reproduced from DNA