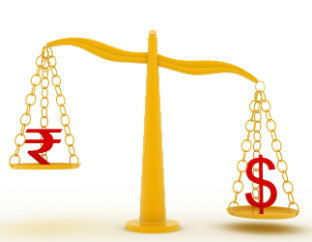 The rupee crossed the 65 mark against the US dollar on Wednesday with its impact being felt across the board. For the common man, the immediate pain is on account of an increase in home loan rates by ICICI Bank and HDFC, which will increase the burden of equated monthly instalments.
Both HDFC and ICICI Bank announced that they have increased their benchmark rates, which are used for pricing floating rate home loans, by 25 basis points. A quarter percentage point increase in rates pushes up EMIs on a Rs 10 lakh home loan by Rs 170 a month.
The increase in lending rates by two of the largest private lenders is despite statements by the government that long-term rates will not increase. The Finance Ministry had said that RBI's strategy to buy back long-term bonds would keep long-term yields in check even as short-term rates continue to be high. With banks talking about 70 being the next resistance level, hopes of an early end to volatility and monetary tightening are fading.
The rupee is creating upward pressure on interest rates from three fronts. First, RBI needs to raise short-term rates to rein in the dollar. This has already happened. So far, banks had refrained from raising rates hoping the measures were short term. But, with the rupee breaching 65, banks feel the measures are here to stay. Second, at the present exchange rate, oil prices in rupee terms will increase and drive up inflation, which will cause RBI to keep rates high. Third, expensive dollars will make business unviable and increase bad loans thus hurting interest income of banks.
Reproduced from Times of India