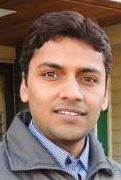 Harsh Goyal
Domlur
What do you think about Bangalore's food scene?
Deciding where to eat out in Bangalore is never a problem because we have so many restaurants. Each one is unique and offers an amazing array of food.
Where do you usually eat out? What do you like about it?
I regularly visit Rajdhani for their thalis. It reminds me of home food. I like hanging out with friends at Bak Bak Bar. The cocktails there are pretty good. And I'm a fan of Starbucks, so I enjoy the coffee there.