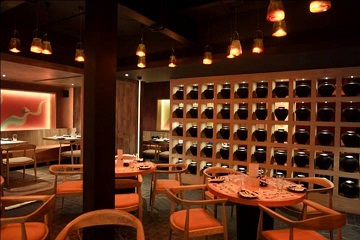 JSM Corporation has launched Ginger Tiger, which focuses on stir fry and casual dining. Located in Indiranagar, Ginger Tiger lends modern flair and freshness to what they offer. Every dish here blends innovation with classic Mongolian fare. The décor is 1620 square feet of casually chic ambience. With 76 covers, plus a 16 seat patio, it provides a comfortable setting for quick lunches, team outings or a date.
Sanjay Mahtani, the co-founder of JSM Corporation Pvt Ltd said, "The dining culture in Bangalore is rapidly growing to accept more brands and cuisines. We, at JSM, believe that the casual dining format has not been explored much in the city. With Ginger Tiger we would like to introduce the concept of Stir fry's that can mean anything from a complete family meal to a quick lunch, all at a reasonable price. While our core values of authentic cuisine and premium quality service will carry on to this new name under JSM, with Ginger Tiger we hope to establish ourselves as an authority in the casual dining format in the hospitality industry."
The menu, put together by Chef Priyank and Chef Rahul, includes soups, starters and unlimited stir fry bowls, starting from Rs 399. Ginger tiger is open from 12pm to 3:30pm and 7pm to 11:30 pm every day.