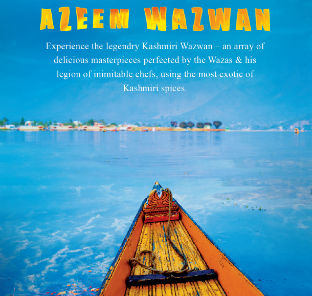 Kashmir's cuisine is distinguished by the Wazwan – a multi-course meal that involves not only a variety of dishes but also brings to light the culinary customs and traditions that are prevalent in the culture.
Gourmet Express brings to Lalit Ashok the ultimate formal banquet of Kashmir – Azeem Wazwan. Ensuring a myriad of flavours, Kashmiri Chef Altaf Bhat and his team aim to delight food enthusiasts with prix-fixe, hand-picked Kashmiri dishes like rista, gushtaba, maaz pulao and aab gosht.
With classical Kashmiri music – Sufiana Kalam playing in the background and traditional handicrafts adorning the space, the evening promises to provide a complete experience of the finest Kashmiri hospitality.
The gala food festival will be held at 24/7 and the terrace area at the Lalit Ashok from October 1 to 10 between 7:30pm and 11:30pm. The vegetarian and non-vegetarian selections will cost Rs 995 and Rs 1,195 (inclusive of taxes) per person respectively.