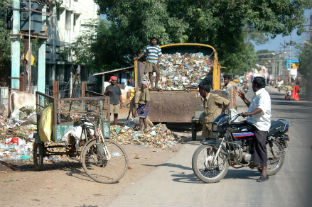 BBMP officials have resorted to a new technique of reminding property owners to pay their tax dues. Garbage trucks will be parked in front of their houses and officials hope the sheer embarrassment will induce them into paying up.
Interestingly, a random check in Rajajinagar 1st N block has revealed that every 18th house owner is a tax defaulter.
According to a directive issued by mayor B S Satyanarayan, every revenue inspector has been asked to visit 25 residential and commercial buildings per day, every assistant revenue officer is to inspect 10 properties and each of the eight zonal deputy commissioners has to check one property daily.
Nagapura sub-division assistance revenue officer Puttachary said, "Normally, we don't pressurise property owners to pay their dues. Recently, the mayor and the commissioner had directed us to conduct surveys and collect tax arrears. Despite being asked repeatedly, property owners were avoiding paying taxes, so this time we had decided to park garbage trucks in front of the their properties."
He added, "One owner who rented his premises to a well-known eye clinic has to pay Rs 11.39 lakh, another who has rented out his premises to a bank has to pay Rs 5.38 lakh, while yet another who has given his place to a well-known jeweller's outlet has to pay Rs 8.35 lakh. All three have now paid their dues."
Reproduced from Bangalore Mirror