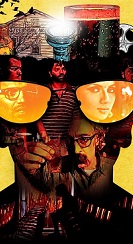 Lucia is the first ever crowd funded film in Kannada. It's not the average offering that you have come to expect from Karnataka's cinema (Sandalwood) and had a unique marketing strategy that actively used the online sphere for promotions.
The film went on to become successful and its director Pawan Kumar earned appreciation and accolades for his vision and direction.
Here's Kumar making a presentation to a room full of foreign nationals at the British Council in London. At the end of his presentation, to the sound of generous applause, Kumar played "Tinbeda Kammi" - the most popular track from the film.
Here's the video: