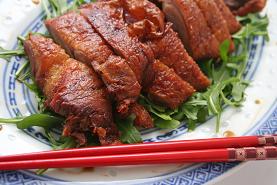 Executive Chef Kailash Gundupalli is all ready for the Chinese New Year delicacies that will be dished out at the Novotel Bengaluru Techpark Hotel's Chinese Food Festival.
A popular street food in China is Ban Mee - noodles, broth, egg and various toppingsTthe hotel's restaurant The Square has a live counter with some beloved toppings.
The centrepiece of the menu is Peking Duck: a specialty first prepared in China during the Yuan Dynasty in the 1330s. There is a restaurant in Beijing, called Bianyifang, that has been serving this dish since 1416. But since we can't go there, Chef assures us his recipe is a close second.
The dim sums, served at the table are little bundles of joy. Other starters include Pork Chops, Spare Ribs and Chicken Wings. Mains have treats like Singapore Chili Crab, Kung Pao Prawn, Squid in XO sauce. The mains are accompanied with excellent Hand Made Noodles and Claypot Rice.
For desserts there is Darsaan, Honey Noodles with ice cream and Toffee Fruit. A proper Chinese feast is the best way to welcome the new year.
The Square, Novotel Bengaluru Techpark, Marathahalli – Sarjapur Outer Ring Road, Bengaluru