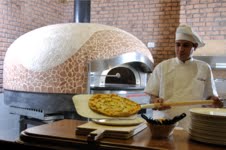 La Tagliatella has opened its second restaurant in India. It is a European-based Italian restaurant, which offers unique, high quality cuisine.
Located at the Amrest Bunglow, Indiranagar, the ambience of this restaurant-- a product of its founder's love of Italy, aims to whisk the patrons to Roma or Firenze. The authentic high quality food comes from the best Italian base ingredients sourced directly from Spain and Italy.
The menu selections deliver an artisan, "homemade" flavor with more than 300 combinations of pasta and sauce, pizzas made in traditional Italian ovens, risottos, salads, desserts and more. All recipes are cooked using extra-virgin olive oil.
La Tagliatella is a 20-year-old brand with close to 178 outlets across the world. It is known for its exceptional dining experience that can't be found in any other Italian restaurant. Portions are perfect for sharing and guests are surrounded by enchanting decor that welcomes and creates a sense of familiarity on every visit. The restaurant aspires to be the perfect fine dining restaurant that provides the true hearty, homely and authentic Italian experience.
Resource:
La Tagliatella
766, Amrest Bunglow, HAL 2nd Stage, 100 feet road, Indiranagar % 60506066