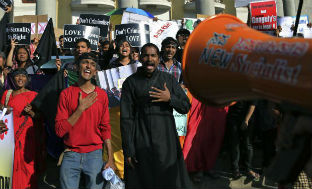 The Lesbian, Gay, Bisexual and Transsexual (LGBT) community in Bangalore gathered at Town Hall to protest the Supreme Court's verdict decriminalizing gay sex on Wednesday.
The SC upheld constitutional validity of IPC section 377 that makes gay sex a punishable offence. It said it was up to elected representatives to amend the law. Members of the LGBT community expressed shock and disappointment at the order.
"While unfortunate, this verdict will not send the community back into the closet," said Raj Iyer, a soft skills consultant. He said the number of assertive and openly gay and lesbian individuals in Bangalore was on the rise since the Delhi High Court order. "The Supreme Court verdict is creating a wave of resistance. We are seeking new means to fight back," said Iyer.
About a dozen NGOs in Bangalore have been working for LGBT rights for over a decade. 'Good As You' and other support groups meet once a week to discuss LGBT identities, counsel individuals on coming out and promote free expression. Vinay Chandran, director of NGO Swabhava Trust that runs 'Good As You', called the judgment an "act of betrayal".
"We are angered and disappointed. Criminalising gay sex will promote blackmail and extortion by opportunists and may force corporate India to withdraw support to the LGBT community,'' he said.
Reproduced from The Indian Express
Picture source: Deccan Chronicle