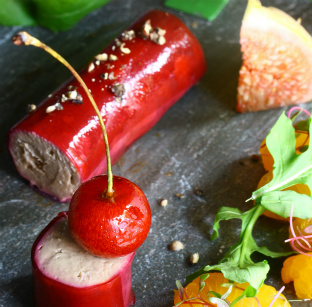 To celebrate its first anniversary, LikeThatOnly, the Asian Restaurant and Bar at Whitefield Bangalore, presents the Anniversary Tasting Menu every night from July 27- Aug 3.
Chef Prashanth and his team are offering a special anniversary tasting menu that includes a twelve-course meal. Each course plays its part, fitting the tasting menu. Diners can start with an amuse bouche of deconstructed Caesar salad with tempura prawn and the smoked clam chowder with lemon grass and chilli. Next on the tasting menu is a chicken liver pate with raspberry gel, fig puree and mandarin followed by tuna tonkatsu with yuzu marinated watermelon and egg salad.
LikeThatOnly is known for its sushi. The menu, therefore, offers Tasting Of Sushi, including salmon and crab meat sushi. One can then move on to the scallops, pan seared with edamame, asparagus and tamarind sauce. For mains the menu has duck leg confit with five spice glaze and pancakes followed by the fish en papillote- seabass with Asian marinade and sautéed greens cooked in a paper bag, the duo of pork comprising pork ribs and belly with slow cooked baby potato.
For pre-dessert, the menu has the sunny side up with its innovative take on a fried egg. Wrap up the meal on a sweet note with beetroot parfait.