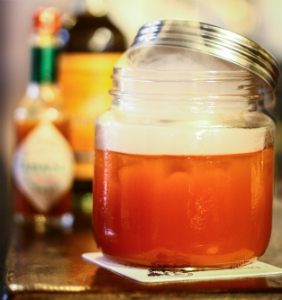 For nine days only, from August 15 to 23, 12 noon onwards, Monkey Bar(Wood Street) brings to its diners the best of LikeThatOnly's (Whitefield) Asian inspired dishes.
Try the famed Mary Pops In, served in pickle jars, a great tasting Bloody Mary with in-house pickle juice encased in hickory smoke or a lotta - a julep, mint and sugar, pounded with Bacardi White and Bacardi Black.
From LikeThatOnly's small plates, diners can indulge in some fun Asian fare with a twist. Order a plate of Kimchi baby potatoes – served on a bed of cabbage and crispy garlic; prawn tempura maki roll - with wasabi, gari and soy sauce, their popular pork belly on skewers - slow braised belly with mustard miso sauce glaze, coconut prawns with mayo - marinated prawns coated with coconut flakes and fried, served with a chili mayo dip and many more.