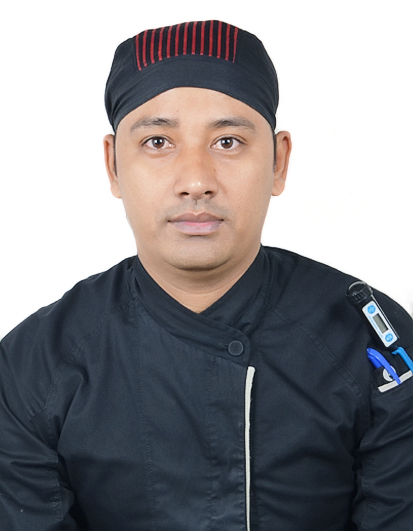 Hem Shrestha,
Chef De Cuisine, Tim Tai
What have you planned for Valentine's Day?
We have decorated the whole restaurant and ladies will be welcomed with roses. We have a special menu with exciting dessert options. Mee Krob Thai, Tom Yum Soup with assorted seafood, Tropical spicy green chicken curry, fragrant Thai fried rice wrapped in egg sheet and a special dessert made with Water Chestnut Rubies and fresh Coconut Milk. And lots more goodies for the guests.
How did you decide to become a chef?
As a young child at home I used to love the way my mother made momos. Mummy's food is the best. I still remember that day which inspired me to be a Chef: it was my school picnic and I cooked some egg curry with rice for all my friends. Needless to say, I became very popular in my class after that.
Which other restaurants in Bangalore do you like?
I love to have authentic North Indian Cuisine for that I like Punjab Grill. For a change of taste I visit my neighbours Bon South.
What do you like about Asian cuisine?
Asian food is loved by one and all including me due to the freshness (a la minute cooking). It is light and not at all heavy on the stomach.
Which ingredients do you like to cook with?
We at Tim Tai use imported ingredients hence I love to cook with most of them however few of them are my personal favorite like Balinese spices, lemongrass, fresh coconut cream, kaffir lime.