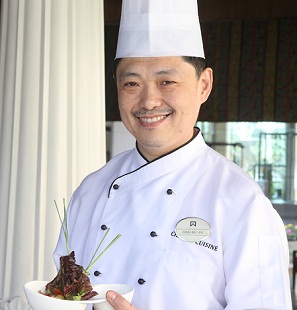 Meet The Chef - Chef Zang Wei Jia,
ITC Gardenia, Bangalore.
Who inspired you to cook?
My mother. I was a fairly chubby kid and my mother would watch me relish my food and say - You were born to eat! I followed my passion and learnt how to cook as well!
What is the first thing you learnt to cook?
I specialized in Sichuan (Schezwan) food and started off with making noodles with a hot Sichuan sauce.
What about cooking do you like the most?
I like using fresh produce and top quality ingredients. It is a pleasure to see guests appreciate my food.
What's the one distinguishing factor about your cooking?
The Chinese food I cook is very different from what you get in India. I think Indian palates are used to very strong flavours and spices, hence the food here is tweaked to meet these tastes. I also do not like to use MSG at all in my cooking. My food is not as spicy but has its share of bold distinctive flavours.
What are some of your favourite things to cook?
Sichuan sauce with fish or chicken, fish dumplings
What is comfort food for you?
Noodles or rice with a flavourful Chinese sauce