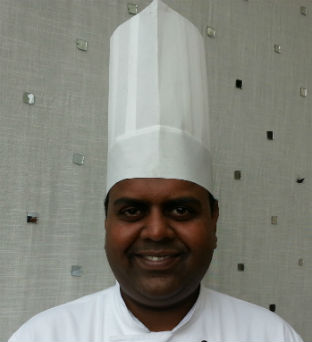 Gaurav Anand
Executive Sous Chef at The Hyatt, Bangalore
How long have you been a chef?
I have completed 12 years.
What are your signature dishes?
My signature dishes include butternut squash and sage ravioli and Atlantic salmon roulade with tapenade. They have always been well received by the guests and that's what make these my favorites too.
Who or what inspired you to take up cooking?
Growing up, I liked experimenting with new cuisines and recipes along with my mother, and my father would invariably taste and give his feedback. It was the starting point and later on when I joined IHM, my professor Mr Maji was very impressed by my culinary experiments and encouraged me to study culinary sciences. It has been an exciting and rewarding journey since then.
What has been your most memorable moment or biggest achievement as a chef?
My most memorable moment, and a real moment of pride was when I became the chef in charge of Machan.
What kind of food do you personally enjoy eating?
Nothing comes close to my mother's home cooked meals.
Why do you think there aren't many women chefs around?
It's just a mindset. Earlier though it was a male dominated industry, now we have talented women chefs working in various capacities in hotels, both in India and abroad. This trend will just have a more upward swing in the future.