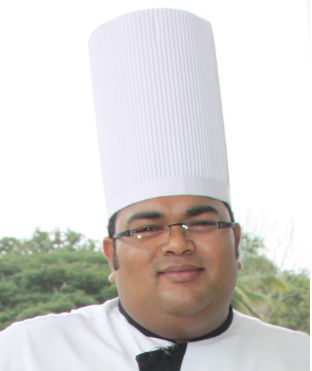 Chef Mayur Ramachandran
Sr. Sous Chef
Moevenpick Hotel and Spa Bangalore
How long have you been a chef?
I am working as a professional chef since 9 years, but have been cooking since school.
What are your signature dishes?
It has to be lahm tagine and steamed couscous because it is so simple to make yet extremely complex because of the sheer array of ingredients used. Being a typical south Indian I am extremely fond of my sambar and adai. I also love preparing home food and pulikootu.
Who or what inspired you to take up cooking?
It has to be my mom. She was a fantastic cook. I still use her recipes. Her avial recipe is like a line carved in stone in our family. Everybody in our extended family till date still refer to her collection of recipes.
What has been your most memorable moment or biggest achievement as a chef?
It was when I got an opportunity to cook for Padma Shri Dr Kamal Hassan. That to me was a dream come true as my entire family is a big fan of his work.
What kind of food do you personally enjoy eating?
I enjoy traveling so I love to explore traditional flavors and typical local preparations. Be it the jhunka bhakhar atop Sinhagad or the etti chutney served with parotta on the coasts of Mangalore.
Why do you think there aren't many women chef around?
It's sad isn't it, that guys have been having all the fun so far. But on a serious note I am thankful this is changing and we are seeing a lot of talented women chefs around. Why we haven't had many women chefs around, I still ponder on the same.