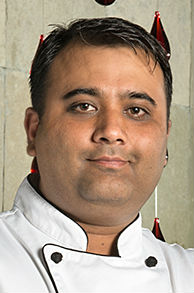 Chef Priyank Chouhan
Shiro
How long have you been a chef?
It has been 14 years
What inspired you to take up cooking as a profession?
The passion and the love for cooking, and the joy it brings to people's faces. My mother's cooking inspired me to take up cooking as a profession.
What are your signature dishes?
Duck confit wrapped in sake pickled vegetables, lobster with black mission figs and five spice jus.
What has been your most memorable moment as a chef?
To get to know and work with different people across the world, learning about their culture and food.
Why do you think there are not many woman chefs around?
Because men like us are always there to cook, serve and please them.
Most recent achievement as a chef?
Working and creating the menu for an upcoming new brand 'Ginger Tiger.'