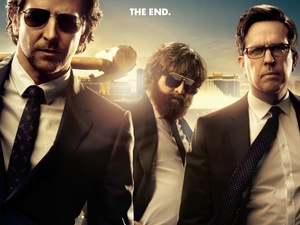 A Bad Hangover
Movie Review: Hangover III
Director: Todd Phillips
Cast: Zach Galifianakis, Bradley Cooper, Ed Helms
Genre: Comedy
Runtime: 1 hour 40 minutes
The Wolfpack is back—for the third time, and it's not a charm. This film proves that Hangover (part 1) was a fluke. The second was bad enough but the third instalment of this one-hit-wonder franchise is an absolute turkey. In fact, it's so senseless, that it might just give our very own Sajid Khan - the king of mindless comedies, a complex. The only hilarious aspect of this film is the reprisal of Doug's character (played by Justin Bartha) - one of the most ridiculously thankless roles ever in the history of comedy films.
This time there is no hangover. The movie could easily have been any other action/ heist film. (Thus showing the maker's desperate attempt to cash in on the franchise's name). Alan (Zach Galifianakis) has lost his father and is going insane. Doug gets Phil (Bradley Cooper) and Stu (Ed Helms) to help him deal with this and get him to a rehab centre. Things go wrong on the way, and Doug ends up getting kidnapped by a mobster called Marshall (John Goodman). Marshall's price for Doug's return: The Wolfpack must locate Mr. Chow (Ken Jeong), and deliver him to Marshall alive.  And apparently, Alan is the only one who knows the whereabouts of Chow. This brings them back to where it all began – Las Vegas and what follows is a series of juvenile, humourless and often tasteless gags that try hard to recreate the magic of the first film.
Bradley Cooper and Ed Helms are reduced to supporting characters here. Chow and Alan form a gruesome twosome as protagonists of the film. Zack Galifianakis has obviously overdone his disgusting, hairy, insane funny man bit (two Hangover films and Due Date). Melissa McCarthy shines in her brief appearance as a pawnshop dealer. Fans of the original film will enjoy references of incidents from the first film and cameos from returning cast members - Heather Graham, Jeffrey Tambor, Mike Epps and even the film's director Todd Phillips.
The Hangover Part 3 has only taken this franchise further downhill and is clearly the weakest of the three films. It may just appeal to diehard fans of the franchise. The end credits pave the way for the possibility of yet another film in the series, but hopefully the makers will wait till the audience is able to recover from the bad hangover thanks to this one.