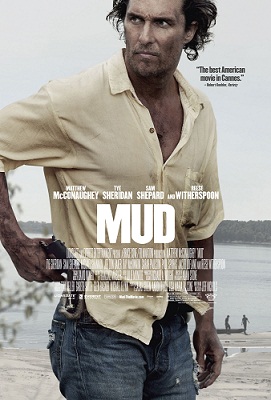 Mud, the toast of Hollywood's indie genre is poignant, exciting and packed with suspense and all the ingredients of a 'coming-of-age' movie. Matthew McConaughey shines in the title role of the handsome fugitive 'Mud', but it is Tye Sheridan who steals the show as the 14 year old 'Ellis' who comes to grips with fragile relationships, sacrifices and an ever-changing world.
Ellis (Tye Sheridan), a 14 year old realises that his parents are separating and desperately looks for an anchor or happiness and heads off to an island on the Mississippi River with his friend Neckbone (Jacob Lofland). They find a boat that's been washed ashore and excitedly try to turn it into a secret project – an attempt to embroil their lives in some adventure. That's when they meet Mud (Mathew McConaughey), a fugitive, who is desperately trying to contact his girlfriend (Reese Witherspoon). Ellis willingly becomes Mud's messenger and errand boy and meets a young girl named May Pearl (Bonnie Sturdivant) and falls in love for the first time. Ellis and Neckbone try to keep Mud hidden from the eyes of the law and rub the wrong people, the wrong way in the bargain. They never question their own actions because they find a sense of nobility in what they do, fully aware of the consequences.
The locations are brilliant and the dangers the land holds, are very real. The dangers (venomous snakes and rough terrain) metaphorically represent violent individuals and other problems that we come across in life.
Matthew McConaughey adds another feather to his over-crowded cap (after brilliant performances in The Lincoln Lawyer and Killer Joe) as Mud. Every other actor comes up with fantastic performances, but Tye Sheridan is outstanding and definitely an actor to look forward to in years to come. Director Jeff Nichols gets the best out of his actors and makes the viewer understand and empathise with everyone's reasons and concerns. Mud is Nichols' third film and his best work so far.
Mud is a little sluggish and takes a while to get to the proverbial point, but the key characters are well fleshed out and the performances are so engaging, that you are willing to ignore the lack of pace.