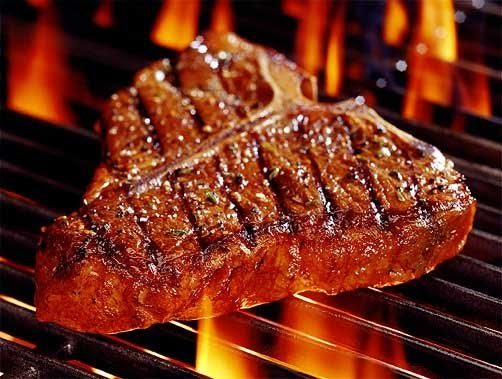 Chef Rohan at I & Monkey is knowns for his innovations and cutting edge style. Be it the tea smoked pork belly, or the Parmesan Tuile chef is not monkeying around. This time chef is paying homage to the classic at his restaurant - The Porterhouse Steak.
The T Bone or Porterhouse steak is not any ordinary steak, it is one of the finest, thickest and juiciest pieces of meat known. It is one of the most expensive steaks and it is grilled using light seasoning, the meat is cooked with a hint of pink for that perfect beef fillet taste so one bite will transport any meat lover into food heaven. The name has an interesting myth behind it. A Cambridge, Massachusetts, hotel and restaurant proprietor named Zachariah B. Porter lent his name to the cut of beef, supposedly. Although many New York hotels claim the title for naming it so.
At I&Monkey it is served with the sharp tasting parsley marinated in olive oil, white wine vinegar, garlic and oregano, sauce to add just a hint of spice to the fillet and a house salad to cut through the sharpness of the sauce, the Porterhouse steak is a must try for anyone looking to enjoy a good chunky steak any day of the week.
I&Monkey, 12th main, Indiranagar, Bangalore