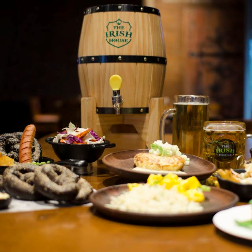 The German Oktoberfest is at Irish House. The festival that is celebrated globally is now at Irish house until 27 October, 2016. Beers, German food and games is what Oktoberfest is all about.
The Irish House has an offer for the festival where you can get international beers for Rs 345 plus taxes. Choose from their selection of international beers.
German dishes like the famous snack, Prestzels are served with house mustard, Sauerkraut, Spatzle, Beer doused wursts, apple strudels and more are on the menu.
The entertainment surrounding the festival includes live music with Mike Kerr that happens on Wednesdays and Fridays are all about drinking games. The games include Beer Relay, Cup Stack, Chugathon, and Spin The Wheel that are a few.
At Irish House.
Noch ein Bier, bitte (one more beer), that is what Bangaloreans have been saying this month as the Oktoberfest dominates the scene. The weather is conducive to drinking beer and thus time to take a trip to Bavaria aka The Irish House that is decked in German splendour. The menu has been specially cuarted with German signature dishes like Pretzels with house mustard, Sauerkraut, Spatzle, Beer doused Sausages, Apple Strudel, and many more. You can also pick up any international beer for Rs 345++ here during the festival. Music comes live with Mike Kerr every Wednesday. And Fridays are dedicated to drinking games – Beer Relay, Cup Stack, Chugathon, Spin the Wheel and several other fun games will ring in the weekends.