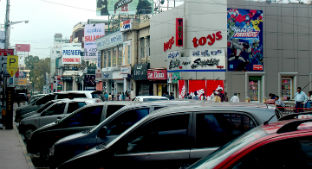 Bruhat Bangalore Mahanagara Palike (BBMP) may have failed to rein in the high and mighty and collect dues from them, but it is set to burn a hole in the pocket of common man by collecting hefty parking fees.
The Palike Council's decision in this regard on Wednesday may create areas where ordinary people cannot dream of visiting in their private vehicles. Dividing the Central Business District into three packages of A, B and C, the Palike intends to charge exorbitant parking fee on an hourly basis. A person, for instance, parking his car on M G Road or Brigade Road for at least four hours will shell out Rs 120 if the scheme is implemented in toto. A biker will have to shell out Rs 60 on the same stretch for parking for four hours.
Palike officials defend the move. A senior Palike officer said hefty parking fee was necessary to discourage people from using private vehicles in view of the increasing vehicular population on the road, which leads to regular traffic bottlenecks.
BBMP is drawing criticism from various sections of people, because metro rail, which could be a quick means of local transport, has missed many deadlines due to its snail's pace of infrastructure building. Also, the Palike failed to implement its building byelaws mandating parking space in the basements of commercial buildings.
Reproduced from Deccan Herald
Pic: brigaderoad.wordpress.com