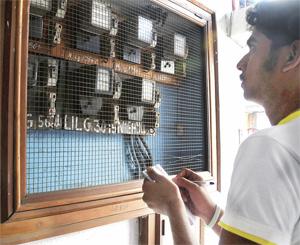 To make bill collection a customer-friendly process, BESCOM (Bangalore Electricity Supply Company) has authorised its meter readers (the personnel who deliver your monthly electricity bills by reading your meters) to collect payments directly from the customers at their premises. The initiative will commence in March this year.
BESCOM feels the need for such an initiative based on the fact that more than 95 per cent of the total 83 lakh consumers are yet to switch over to the online mode of payment. However, the new system is not mandatory and only those who would like to skip standing in long queues at the counters can opt for the novel initiative while the others could still visit the nearest Bescom centre and pay bills.
B L Guru Prasad, Bescom Director (Finance) explained, "The new concept of spot collection of power bills was first introduced at Bangarpet Circle in Kolar district a couple of months ago. Following the splendid response there, we are emulating the same system across Bescom limits. The existing meter readers will don the role of bill collectors and issue spot receipts from their hand-held billing machines. The transactions will be immediately uploaded to our accounts software through the GPRS system."
Bescom expects the move to become popular with apartments and gated communities as payments can be directly made to the their personnel instead of risking handing over huge amounts to apartment staff for payment.
Reproduced from Bangalore Mirror