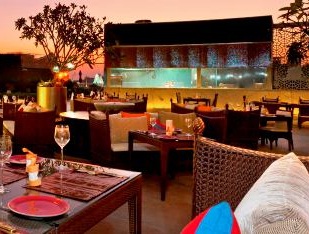 Chef Abdel Wahed from Sheraton Sharm Hotel, Resort, Villas & Spa, Egypt will be at the Sheraton Bangalore Hotel at Brigade Gateway. Chef Wahed will be curating the Persian Food Festival, whiuch will pay tribute to Middle Eastern cuisine and culture. Chef Wahed's culinary specialities will be served at Persian Terrace - the open air restaurant, set to a Middle Eastern theme. Expect shimmering lanterns, candles, twinkling tea lights, cabana sofas, cane chairs, stone floors and a Persian fire wall to remind one of the Arabian Nights.
Some of the dishes that will be served are Kebeb azmeer (Kebab with pine nuts and cheese, barbeque grilled), Shish taowck (Chicken with chilly paste, Arabic spices, garlic and lemon). Chef Wahed's special dish is Kebbeh adas (red lentil with borgol and chilly paste, tomatoes, pomegranate, spring onion, olive oil and garlic).
The Persian Food Festival is at Persian Terrace, Sheraton Bangalore at Brigade Gateway from February 21 to March 2 from 6:30om and 11:30pm. The price would be approximately Rs 2500 per couple on a la carte.