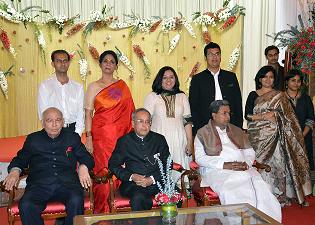 The coffee table book, published by Raintree Media, takes the readers on a diverse and varied journey of the state, through its architecture, festivals, art, people and food.
At a glittering evening at the Raj Bhavan, the limited edition book, Karnataka – A Cultural Odyssey, was launched by President Pranab Mukherjee in the presence of the governor, Dr Bhardwaj and Chief Minister Siddaramaiah.
The book showcases the cultural grandeur of Karnataka, its historic structures; the spiritual centres; festivals; thriving art, and diverse and delectable cuisine. The book also takes readers on a private tour of the Raj Bhavan. The book also contains over 200 photographs.
While talking about the book, Dr Bhardwaj says, "This is the book that we have specially commissioned for the Raj Bhavan to bring out the cultural grandeur of the entire state. The purpose of this book is to enable visitors to Karnataka to embark on a cultural odyssey of this vast state, and to carry back memories of its rich heritage and vibrant society. I am sure this book will provide delightful and insightful reading about this progressive state."
Sandhya Mendonca, Managing Director and Editor-in-Chief, Raintree Media, says, "We are indebted to His Excellency the Governor of Karnataka, Dr HR Bhardwaj, who has had the vision to commission this unique publication that showcases the vibrant culture of Karnataka. We have been able to present the best of our state: from the historic temples to the traditional art forms, from the colourful festivals to the delicious food. This is the most prestigious publication Raintree Media has done to date."