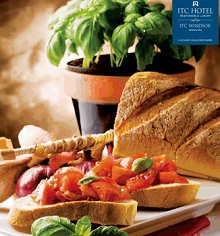 ITC Windsor, Bengaluru is all about the finer things in life. And this is reflected in its offerings to its valued patrons. Raj Pavilion - Cuisine from the Silk and Spice Route will feature "Jazz on Toast" The Subtle Art of Bruschetta Making in a ten-day promotion between June 14 – June 23, 2013. Experience a range of Bruschettas topped with creativity and inspiration.
Although making a Bruschetta might sound challenging, once you try making one, it can be an exciting activity. The "Bruschetta"" becomes the blank canvas for Chef Prashant Joseph and his culinary artists as they dress it up using their imagination. The "Jazz on Toast" The Subtle Art of Bruschetta Making at ITC Windsor does just that.
Chef Prashant Joseph has unified this age favorite with new ingredients and innovative creations to whip up the culinary delights to suit the contemporary palate.
Our master Chefs will be delighted to rake your choice of Bruschetta exactly the way you like it. You have your choice of the breads be it the Multigrain, the Black Poppy Seed, Rye, Pumpkin, or the Neropan Black bread. We also offer you your choice of toppings like the Olive Tapenade with Artichoke and Yellow Pepper, Fig and Feta or the Mango, Avocado and Basil. Among the non-vegetarian toppings we provide you with a choice of Smoked Chicken and Mango, Shrimp with Dill, Caper and Mayo or the Chorizo with Prune Tapenade.
From the traditional to the modern variations – "Jazz on toast" - The Subtle Art of Bruschetta Making will come alive at Raj Pavilion.
So do join in savoring the presentation of "Jazz on Toast" The Subtle Art of Bruschetta Making between June 14 and June 23,2013 at the Raj Pavilion.