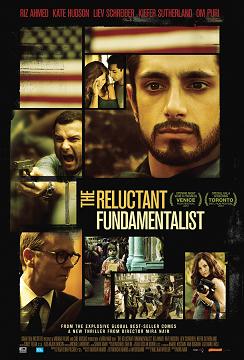 Director: Mira Nair
Cast: Riz Ahmed, Kate Hudson, Live Schreiber, Om Puri and Shabana Azmi
Genre: Drama/ Thriller
Runtime: 130 minutes
'Yes I'm a Pakistani. Yes I'm a Muslim but that's not all I am,' a bit of the dialogue in the film, reflecting its soul, it's heart and the message. Based on Mohsin Hamid's novel by the same name, The Reluctant Fundamentalist is a powerful attempt at depicting post 9/11 impact on the Muslim world.
We follow the journey of Changez (Riz Ahmed) as he moves to America at a young age to pursue the great American dream. After graduating from Princeton, he lands a job at a top investment firm and soon starts dating an American girl, Erica (Kate Hudson). His confident and likeable demeanour enables him to slowly climb the ladder of success. Life is a bed of roses, until the 9/11 attack.
He becomes a prime target for racial discrimination and USA no longer welcomes him. He is forced to return to Pakistan where he takes up teaching in a university.
There are two narratives that flow seamlessly side-by-side in the film. One is the political thriller where the plot unfolds as investigations are carried out regarding the kidnapping of an American professor. The second narrative is a coming-of-age story that shows a man's emotional journey as he comes to terms with a dark reality. What is right and wrong? What are the repercussions of terrorist attacks in the name of religion on society? What is Changez's involvement in the kidnapping?
Riz Ahmed is absolutely brilliant as a super confident, slightly brash character that undergoes tremendous change and growth. Ahmed looks the part and gives a very sincere, subtly grounded performance that connects with the audience. Supported by an ensemble cast comprising Liev Schreiber, Kate Hudson, Shabana Azmi and Om Puri, this film excels in getting its message across. It is a strong content-driven film, which makes you think and question certain beliefs and ideologies.
Made for a niche audience, it's a good film with its heart in place.