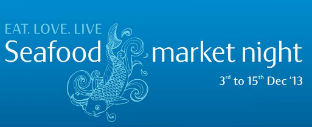 Memories of China at Vivanta by Taj invites you to savour the flavours of the sea at a dedicated seafood festival.
Master Chef William Tong and his team of food experts present Seafood Market Night, a food festival featuring Chinese seafood delicacies. The festival will serve an a la carte menu which include dishes made of a variety of seafood like lobsters, prawns, crabs, cuttlefish, mussels, squids and lots more.
Highlights of the festival include Shangai smoked fish fillet, hot and sour seafood soup, steamed whole grouper fish in lemon chilly, crab in black pepper sauce and braised mussels and capsicum in hot bean sauce.
Seafood Market Night will be on till December 15.