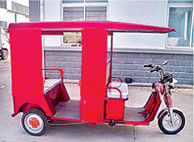 If you spot a red, sleek, four-seater version of the autorickshaw, don't be afraid to stretch out your hand and hire it. These new arrivals are battery operated and may soon be the preferred mode of transport in Bangalore.
Although they travel slower than the regular rickshaws, customers will be pleased to find out that they charge only Rs 10 per kilometer. Varun Goel, a commerce graduate from Bangalore, who has ventured into the business of importing these vehicles from China, says he was inspired by seeing these autos operate in Delhi, Ahmedabad, Kolkata, Pune, Rajasthan and some parts of Bihar.
So confident is he about his venture's success that he is planning to import 50 more of these eco-friendly electric autos by the end of the month.
Five of these eco-friendly rickshaws are already on trial, ferrying passengers in K R Market, Koramangala, Begur Road and Bannerghatta Road.