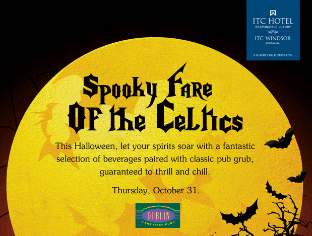 Though widely known as an American tradition, Halloween is said to be influenced by Celtic countries, especially Ireland. As an authentic Irish pub, it's only right that Dublin celebrates this ancient tradition with a spooky feast.
Rated as one of the world's 25 finest bars, Dublin, the Irish pub at ITC Windsor, invites you to sample their frightening fare, specially crafted for Halloween.
The menu includes beverages like Vampire Kiss Martini, which they say is meant for grown-ups who aren't on chaperone duty and Le Demon Vert meant for the naughty demons.
On the food front, guests can expect pub grub like Saucy Baked Rats and Hunter Chicken Arrows in Baked Pumpkin Ghosts. There is also main course like Worms Topped With Pumpkin Risotto on the menu. To end, dessert includes a Haunted Graveyard Cake.