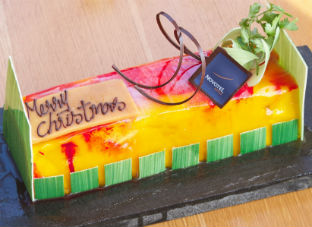 December is here, which means the spirit of Christmas is spreading. Novotel invites you to celebrate with a fairytale experience.
Delice at Novotel Bengaluru Techpark is transforming itself this Christmas. Taking from the Grimm's Christmas fairy tale experience, the hotel's gourmet bakery will turn into a grand ginger bread house. In addition, unlike traditionally, there will be a colossal chocolate coated Santa Claus.
With snowflakes resting on top and poinsettias lining its boundaries, the ginger bread house is 12 feet high. Santa too, stands tall at 14 feet. The hotel is expecting to be the largest display in the city this Christmas.
The house will feature a range of Christmas goodies like Yule logs, Dresden stollen, mince pies, plum pudding with brandy sauce, Belgian chocolate Santas, Christmas cakes, European Christmas cookies and other traditional desserts.
The goodies are available throughout the festive month and are priced at a range of Rs 150 to Rs 2000.