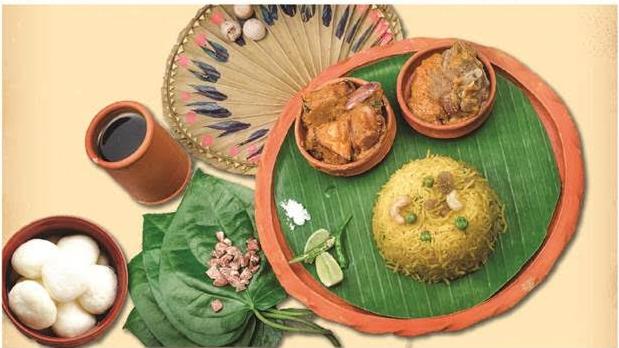 It's all about the Chingri, the Bhekti, the Dhokar Dalna. Hyatt Bangalore on MG Road is doing an innovative food festival celebrating Rannaghor, an ode to kitchens of Bengal. The restaurant Pink Poppadum has a menu which is bringing dishes from Bengali household kitchens to the garden city.
The starters on the menu include delicacies like Piyaz Postor Bora Deep fried poppy seeds and onion dumplings, Mochar Chop, Spiced banana flower croquettes, Chingri Kabiraji, Crumb fried prawns and the famous Murshidabader Mutton Fry, Murshidabad style lamb preparation.
For the vegetarian main course we recommend the Lau Kumror Ghonto which is a Bottle gourd and pumpkin curry tempered with 'kalo jeere'. Or the Enchorer /Chhanar Kalia which is Jackfruit /Cottage cheese simmered in lightly spiced gravy. If you are not vegetarian you sample from a huge array of exotic dishes like Bhetki Jhaal, Doi Katla Maach, Katla fish cooked in yoghurt based gravy or the Murgir Aam Kashundi, Boneless pieces of chicken cooked in a tangy mango flavoured mustard curry. Try these with rice or classic luchi.
But the hero of the menu is the dessert section. Try the Chhanar Payesh, Homemade cheese dumplings stewed to perfection in sweetened milk, or the Alootua, sweet potato 'gulab jamuns' steeped in sugar syrup.
Dinner, till 15th May
Hyatt Bangalore M.G. Road
1/1 Swami Vivekanda Road, Next to MG Road, Ulsoor, Bangalore