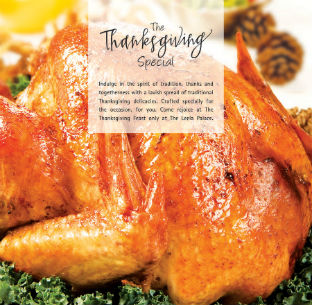 The brunch destination,  Citrus at Leela Palace is going to transform its interiors for the Thanksgiving season. Haystacks, corn stalks and pumpkin baskets will adorn the restaurant to reflect the season of harvest.
For the feast, the spread will include stuffed turkey with trimmings, roasted pumpkin, prime rib and apple chowder. Alongside there will also be an array of salads, cheeses, seafood, pastas, breads and desserts.
Without alcohol, the dinner will be priced at Rs 3000 plus taxes, whereas with unlimited wine and beer, the price is Rs 3500 plus taxes.