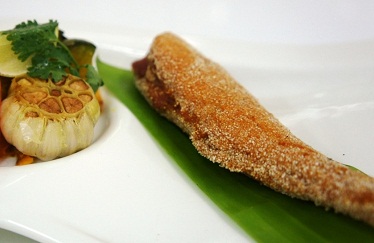 The ten day Only Fish festival returns with a promise to present fish dishes from all parts of the country.
Gourmet Express is back at the Lalit Ashok and everything is 'fishy'. Only Fish, a ten day festival of fish dishes which will include preparations from all over India.
Chef Dinakaran will be presenting fish preparations in various styles prepared in all four corners of the country. For starters, there will be Pomfret Maach Bhajaa (fried Pomfret from Bengal), Bangda Fry, Barbequed Skewered Fish Tikka and Kane Rava fried fish (from Mangalore). The main course has Sarson Bata Maach (Mustard mixed fish from Bengal), Fish Reacheado (from Goa), Luknowi Machilli Curry, Nellur Chappala Pulusu (Tamarind fish curry from Andhra) to name a few.
To sum up the fishy dinner, one can indulge in Tawe Ki Sev with Ghumta Jaa dessert. Each dish will be served with choice of steamed rice, appam, sannas and paratha.